We are now providing the opportunity to gather in-person on Sunday mornings, in addition to the online service! In-person service times will be at 9:15 AM and 11:00 AM and the online service will continue to be streamed live on Sundays at 11:00 AM on the Casas Facebook page and the Casas YouTube Channel.
---
Preparing for In-Person Services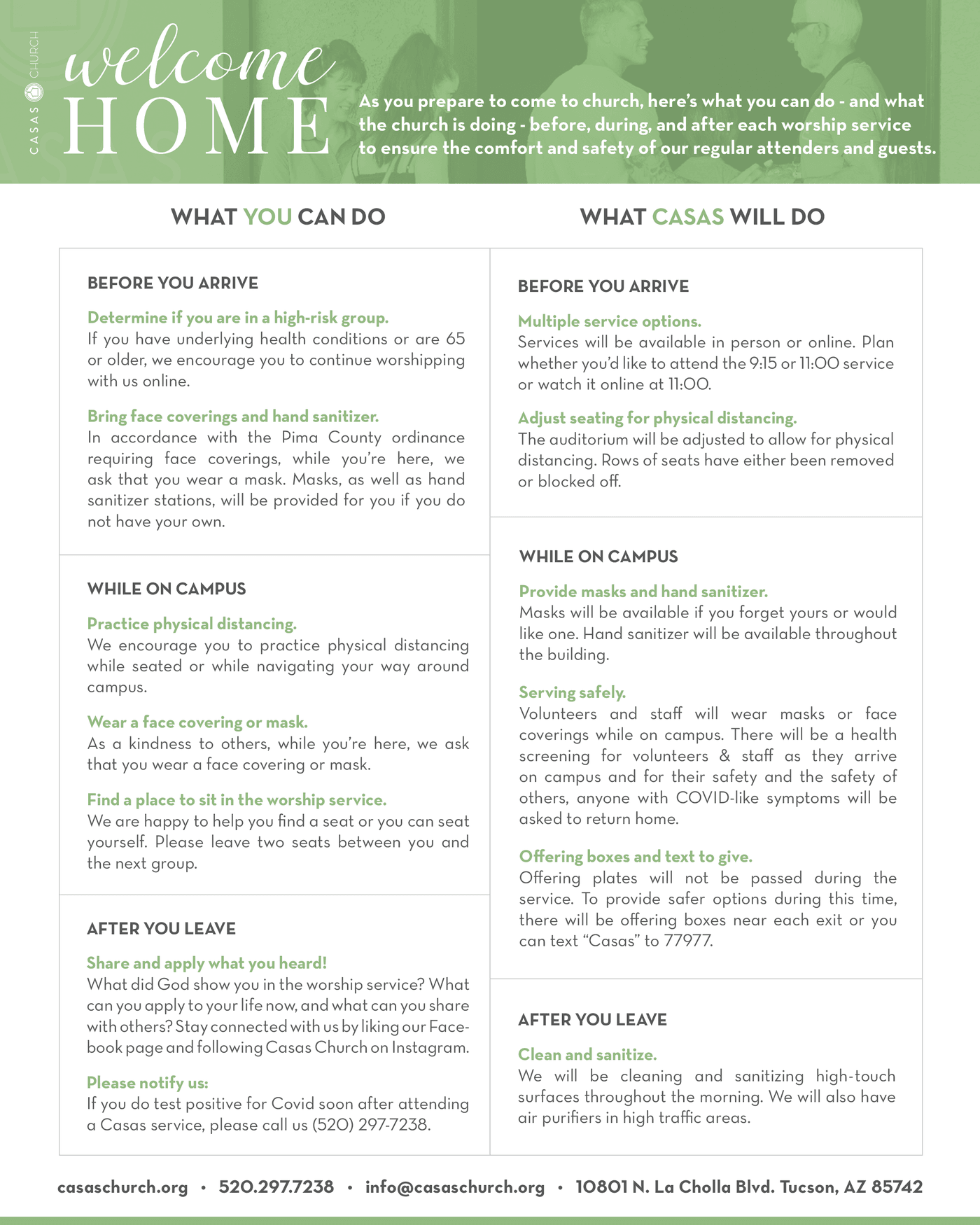 Frequently Asked Questions
Are masks/face coverings required to attend services at Casas?
While you're at Casas we ask that you wear a mask or face covering.
Are reservations required to attend?
Not at this time.
Will the Coffee Spot be open?
The Coffee Spot will not be open on the 30th but we hope to open it in the near future!
How can I continue giving if I am unable to attend in-person services?
Online giving is available for your convenience, you can text "Casas" to 77977, or you can mail it:
Casas Church
10801 N La Cholla Blvd
Tucson, AZ 85742
How can I receive care?
Email [email protected] or call 520.297.7238.
What will Casas Church do in the result of a positive COVID-19 case?
If you test positive for COVID-19 after having been on the Casas Campus, we request that you notify the Casas office directly at (520) 297-7238. Your privacy will be maintained to the greatest extent possible.
If we become aware that someone who has attended a service or gathering on the Casas campus tests positive for COVID-19, we will do the following:
Identify applicable space(s) that need to be closed for professional cleaning and disinfection.
A member of the pastoral staff will contact the individual who has COVID-19 and/or a family member to offer pastoral care.
With your collaboration we will assist in identifying and notifying close contacts to help contain the spread of the virus.
We will partner with county and/or state health departments for any additional guidance.